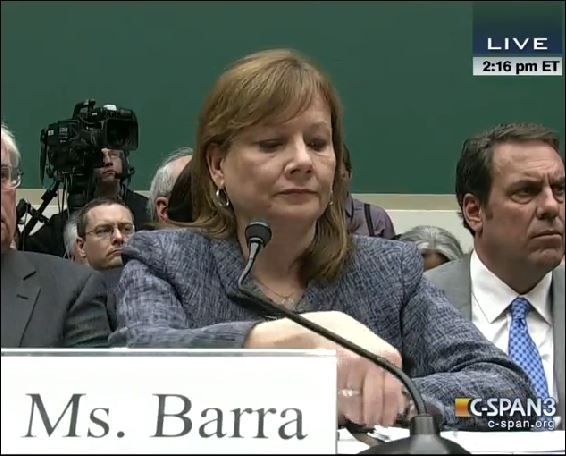 CEO Barra not having a
good day at a Congressional hearing
Today, the motoring Population Health Blog used its C-SPAN enabled car radio to listen in on the
U.S. House Energy and Commerce Subcommittee's grilling of General Motor's CEO Mary Barra
. As the PHB understands it,
GM allowed millions of its cars to stay on the road despite awareness among some of its executives of a faulty ignition switch that failed to "meet specifications." It was deployed in seven GM models for over a decade
.
The PHB can assure readers that when it comes to using "gotcha" yes or no questions on a humbled CEO to plumb the meaning of "specifications," Congressional bipartisanship is alive and well.
While GM is completing its internal investigation and the PHB is speculating, it's possible that GM's travails are ultimately the result of
concentrated risk
. While
standardization
across automobile manufacturing is a no-brainer, it all came down to a weeny metal spring's inability to hold a plunger in place. That led to a loss in power in moving cars with a catastrophic failure of steering, brakes and airbags.
Which naturally brings the PHB to health care.
In a recent chat with a well-connected and savvy colleague, it was pointed out that some health leaders are predicting that, in the years to come, health care in the United States will be delivered by a network of dominant regional integrated delivery systems.
Many policymakers naturally welcome the prospect of "postindustrial care"
that is replacing a highly variable and unmeasured cottage industry with guideline-driven science and standardized protocols. Part of that standardization will almost certainly include uniform treatment pathways and medical devices.
The problem?
Never mind that
some guidelines may not work as well as intended
. They can actually
cause harm
. Medical devices, just like ignition switches, are also not perfect and can lead to (for example)
broken pacemaker wires
or
premature artificial joint failures
. While guideline and device mishaps are infrequent,
the rise of "systems" means they're more likely to involve many more people when they inevitably do happen
.
That's because these large regional delivery systems will be favoring
single
processes and products across
all
patients and
all
settings. Instead of a flawed ignition switch in
seven
models, think of flawed pacemaker in all seven hospitals serving three states.
What's more, it's possible that GM decided that a low rate of failure (ultimately only 31 accidents with 13 fatalities) represented an acceptable cost-risk ratio. The PHB recalls GM was financially ailing during the period in question; could it have decided that retooling a manufacturing process was too expensive? If future integrated delivery systems also turn out to be financially stressed, will they likewise be tempted to stick with an old pacemaker or metal joint, despite early indications of problems?
Oh, and if you think it's just a matter of better government oversight, tell that to Acting Administrator of National Highway Traffic Administration, David Friedman .
He was seated next to Ms. Barra and was asked about his decision not to act on switch complaints as far back as 2007
.
Risk is unavoidable. It's just a matter of anticipating it in all it's many forms. Assuming these big regional systems turn out to have traction, this concentration of risk will be a feature of them.
The PHB leaves it to its readers to decide if it's worth it.